€ 99,39 (€ 121,26) *
€ 113,42 *
(12,37% Salvato)
Prezzo IVA esclusa (inclusa) più spese di spedizione.
Supplier lead time: 10 giorni lavorativi
Codice Mirifica:

100269

Codice MEPA: MFMP-100269 (+ MFMP-SPESE_FISSE, opz. "codici del catalogo")
Nome produttore: Zeroplus Technology
Codice produttore: LAP-C16032
A magazzino: 0
Supplier lead time: Please contact us.
Zeroplus Logic Cube LAP-C (16032) PC-based USB logic analyzer, 16 channels, 32 kbit memory...
altro
Informazione prodotto "Zeroplus: Logic Cube LAP-C (16032)"
Zeroplus Logic Cube LAP-C (16032)
PC-based USB logic analyzer, 16 channels, 32 kbit memory per channel, free software, over 110 protocol decoders for free
| | |
| --- | --- |
| The LAP-C is our bestselling logic analyzer series. Launched in 2008, it won the "ELEXCON Excellent Product Award" in 2008 and the Taiwan Excellence Award in 2009. It also became an immediate commercial success with more than 25,000 units sold to date. With functions, specifications and analysis tools that are remarkable for the price class, intuitive setup and software and a huge library of protocol decoders, eight years after release the LAP-C still offers unparalleled value for money. | |
Features
PC-Based UI: Set up and see the acquired data on a PC using the Logic Cube software; a straight-forward interface makes for quick acquisition setups and debugging.
Protocol Decoders: The Logic Cube comes with more than 110 protocol decoders spanning all major technologies and industries, including the popular I2C, UART, SPI, 1-WIRE, HDQ, CAN2.0B, I2S, PS/2, MICROWIRE etc. We also provide a free protocol decoder development kit.
Auxiliary Analysis Windows: Use the Memory Analyzer, Packet List and Statistics functions to quickly understand what's going on with your signals; where is the data written, what is the content of packet Y, how many highs does channel X have etc.
Data Compression: The Logic Cube incorporates a sophisticated compression algorithm that lets you multiply your effective memory to do longer acquisitions without losing any information.
Filter Signals: Economize memory further by setting filter conditions. Ex: Store data only when Signal 5 is high and Signal 12 is low.
Hardware Stacking: Link several Logic Cubes to increase both memory depth and channel count.
DSO Connection: The Logic Cube can be connected to DSOs so that both analog and digital signals can be captured and displayed.
---
Specifications
Sample Rate
Internal Clock (Timing Mode): 200 MHz
External Clock (State Mode): 75 - 100 MHz
Acquisition Channels
16 or 32
Data Transfer
USB 2.0
Memory
Total memory: 512 kb to 64 Mb
Depth per channel: 32 kb to 2 Mb
Max compression rate: 256
Threshold Voltages
Bandwidth: 75 MHz
Working Range: -6 V to +6 V
Increments: ±0.1V
Electrical Properties
Phase Errors: < 1.5 ns
Source: USB
Power: 5V DC, 500 mA (1 W standby)
Maximum Input Voltage: ±30 V
Impedance: 500 kΩ / 10 pF
Certifications
FCC, CE, WEEE, RoHS, REACH.
Dimensions
125 x 92 x 55 mm.
Operating Systems
Microsoft Windows 7, Microsoft Windows 8.1 and Microsoft Windows 10.
---
Models
The following LAP-C models are available:
16 channels
32 kb memory per channel; model name LAP-C16032 <<== this article!
64 kb memory per channel; model name LAP-C16064
128 kb memory per channel; model name LAP-C16128
2 Mb memory per channel; model name LAP-C162000
32 channels
128 kb memory per channel; model name LAP-C32128
2 Mb memory per channel; model name LAP-C322000
---
Functions
The following functions are available for the LAP-C. For screenshots and longer descriptions of the functions, please go to the Software functions page.
Customization and navigation
Languages: English, Simplified Chinese, Traditional Chinese
State List and Waveform View: Present the data as a list of 1s and 0s or as traces
Waveform and UI customization: Modify the appearance of channels, menus, traces etc.
Zooming and panning: 3 cursor modes
Triggering
Pre/Post Triggering: Store both pre-trigger and post-trigger data; choose from 0-100% pre-trigger data
Pulse-width Trigger: Trigger on pulse widths using a separate module (incl. in the LAP-C322000 model and can be purchased separately for other models)
Trigger Channels: 16 or 32
Trigger Delay: Delay acquisition after trigger event based on duration (time) or number of samples (memory)
Trigger Events: State/Edge/Pattern
Trigger Out: Send a trigger signal that sets off another instrument
Trigger Pass Counter: 1 to 65,535
Trigger Sequence Levels: 1
Analysis
Add Bars: Mark important events in the captured data with bars
Auto Save: Autosave your acquisitions
DSO Connection: Connect to and display analog signals from DSOs
Export: Export acquired data as .csv or .txt
Files Comparison: Compare 2 files to quickly see where and how they differ; included in the LAP-C162000 and LAP-C322000 models
Filter: Capture a signal only when it's high or low
Auxiliary analysis windows
Navigator: Quickly get an overview and navigate to distant parts of the waveform
Memory View: See what the memory looks like; what is read/written to which address
Packet List: Breakdown of all packets details into convenient list form
Statistics: Table view of number of periods, periods that satisfy conditions etc
Protocol decoding
Protocol Decoders: Decode more than 110 free protocols built into software. Click here to see a complete list of supported protocols
Hardware and other
Connect Multiple LAP-Cs:

stack up to 4 LAP-Cs of the same model to increase the memory depth or channel count.

Double Mode: Double the available memory per channel when only using half of the channels; available for 32 channel models only
---
Package content
The following accessories are included in a standard LAP-C purchase. To see pictures and descriptions of the accessories visit our Accessories page.
The Accessories page also contains other optional accessories.
Zeroplus Logic Cube LAP-C
Flying lead probes
Clip-on probe connectors
USB cable for connection to PC
Software and driver CD
Printed installation guide (NOT included with LAP-C16032 model)
Carry bag (NOT included with LAP-C16032 model)
---
Software (free)
The LAP-C software offers a classic engineer style black and grey graphical user interface. The screen division is typical for logic analyzers: signal and trigger settings are prepared in a left column and most of the screen shows the acquired data traces. All functions can be conveniently accessed by clicking the quick access icons or by right-clicking the mouse.
The screenshot below shows the LAP-C software GUI. Click to read more about the LAP-C Software.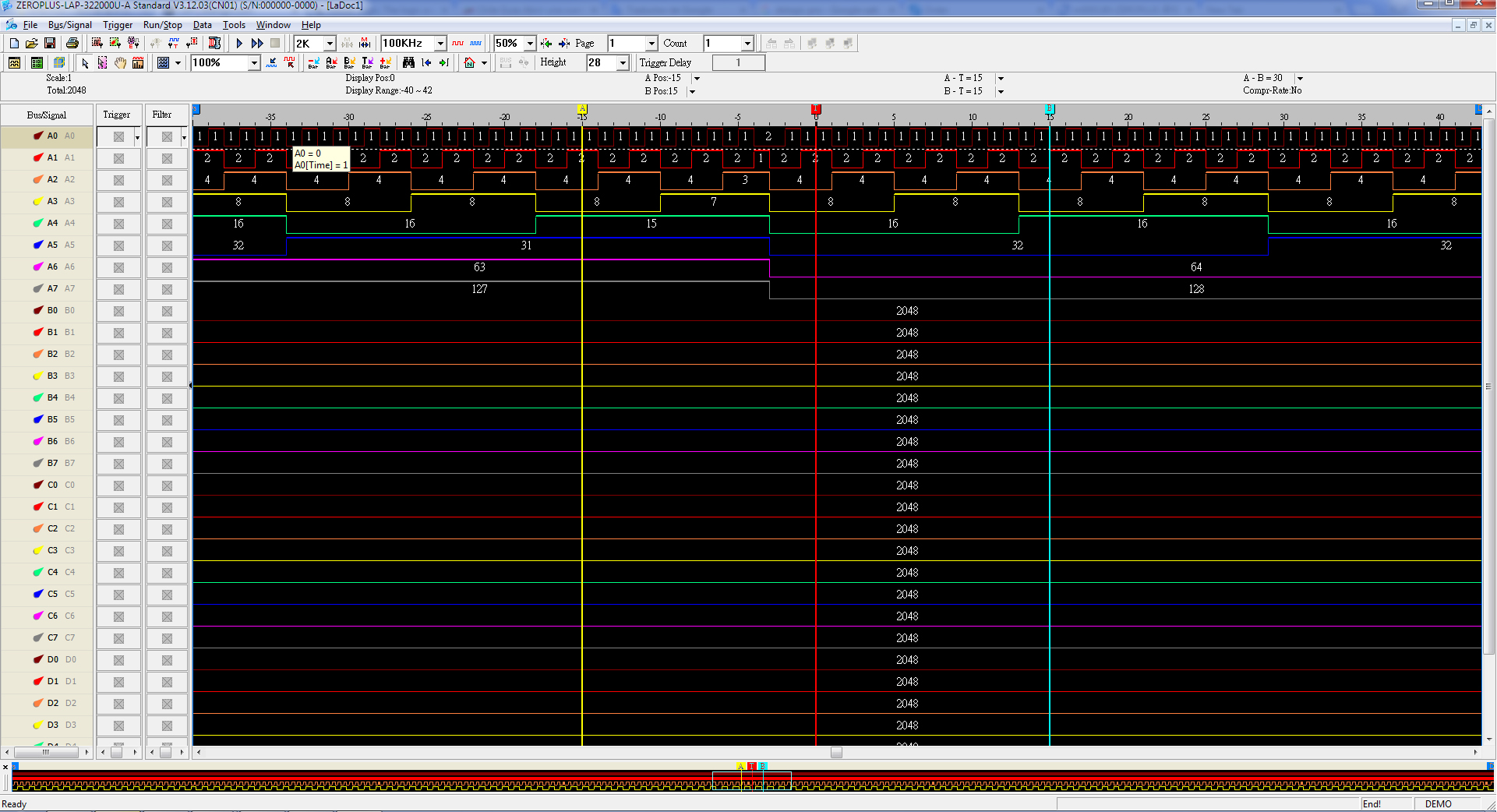 Software Functions (free)
The most important acquisition and analysis functions of our software are listed below. The LAP-C series and the LAP-F1 use different software platforms. Click on a function below to read about it and to find out which of the logic analyzers it is available for. To download the software for the LAP-C or the LAP-F1 please visit our Download page. Note that all protocol decoders are built into the software.
Add Bars |*| Auto Save |*| Autorun |*| Automatic Updates |*| Channel Folding |*| Compression |*| Connect Multiple Instruments |*| Double Mode |*| DSO Connection |*| eMMC 5.1 / SD 3.0 |*| Files Comparison |*| File Export |*| Filter |*| General Software Description |*| Languages |*| Long Time Records |*| Memory View |*| Navigator |*| Packet List |*| Pre/Post Triggering |*| Protocol Decoders |*| Protocol Triggers (SW) |*| Protocol Triggers (HW) |*| Real-time Signal Activity |*| State List And Waveform View |*| Statistics |*| Trace Information |*| Trigger Delay |*| Trigger Events |*| Trigger In/Out |*| Trigger Mark |*| Trigger Pass Counter |*| Trigger Sequence Levels |*| Trigger Voltage |*| Waveform And UI Customization |*| Zooming and Panning
Get 110+ protocol decoders with the LAP-C for free
Great news to all our customers! We have decided to give all our LAP-C customers free access to more than 110 of our protocol decoders. This is great news for LAP-C customers who have previously had to carefully select a small package of free protocol decoders. This policy concerns everybody who bought a LAP-C after October 1st 2015.

Protocol Decoders (free)
1-WIRE |*| 1-WIRE (Advanced) |*| 3-WIRE |*| 7-SEGMENT LED |*| AC97 |*| AES_EBU |*| AMD_SVI2 |*| ARITHMETICAL LOGIC |*| BDM |*| BMS |*| CAN 2.0B |*| CCIR656 |*| CMOS IMAGE |*| Compact Flash 4.1 |*| DALI Interface |*| DDC EDID |*| Differential Manchester |*| DIGITAL LOGIC |*| DigRF |*| DM114/DM115 |*| DMX512 |*| DP AUX Channel 1.1 |*| DS1302 |*| DS18B20 |*| DSA Interface |*| DSI Bus |*| eMMC |*| FLEXRAY 2.1A |*| FWH |*| GPIB |*| HART |*| HD Audio |*| HDMI CEC |*| HDQ |*| HPI |*| I2C |*| I2C(EEPROM 24L) |*| I2C(EEPROM 24LCS61/24LCS62) |*| I2S |*| IRDA |*| ISO7816 UART |*| JK FLIP-FLOP |*| JTAG 2.0 |*| KEELOQ Code Hopping |*| KNX |*| LCD12864 |*| LCD1602 |*| LED Pitch Array |*| LG4572 |*| LIN 2.1 |*| Line code |*| Low Pin Count |*| LPC-SERIRQ |*| LPT |*| MANCHESTER |*| MCU-51 DECODE |*| MDDI |*| MHL-CBUS |*| MICROWIRE |*| MICROWIRE(EEPROM 93C) |*| MIDI |*| MII |*| MILLER |*| MIPI DSI |*| MIPI_CSI-2 |*| ModBus |*| MODIFIED MILLER |*| MODIFIED SPI |*| MVB |*| NEC PD6122 |*| OPENTHERM 2.2 |*| PCI |*| PCM |*| PECI |*| Philips RC-5 |*| Philips RC-6 |*| PMBus 1.1 |*| PROFIBUS |*| PS/2 |*| PSB Interface |*| PT2262/PT2272 |*| QI |*| Quad SPI |*| RGB Interface |*| S/PDIF |*| S2Cwire/AS2Cwire |*| SAMSUNG K9(NAND Flash) |*| SCCB |*| SD2.0/SDIO |*| SD3.0 |*| SDQ |*| Serial GPIO IBPI |*| Serial Wire Debug(SWD) |*| SHT11 |*| SIGNIA 6210 |*| SLE4442 |*| SMBus 2.0 |*| SPI |*| SPI PLUS |*| SSI Interface |*| ST7669 |*| STBus |*| SVID |*| UART(RS-232C/422/485) |*| UNI/O |*| UP DOWN COUNTER |*| USB 1.1 |*| USB 2.0 |*| Wiegand |*| WTB |*| WWV/WWVH/WWVB |*| YK-5
Optional purchases (license needed)
Files Comparison
Compare 2 files to quickly see where and how they differ; optional purchase for all models except the LAP-C162000 and the LAP-C322000
Latch Function
Decode data that don't follow a specific protocol
Protocol Trigger
Find a protocol data pattern
Trigger Mark
Mark the trigger events with bars
---
Support resources
---
References
article manufacturer: Zeroplus Technology Co. Ltd
article name: Zeroplus Logic Cube LAP-C (16032)
article code: LAP-C16032
official page: http://www.zeroplus.com.tw/logic-analyzer_en/products_info01.php
Please contact us for any model, any quantity, any delivery option.
Link correlati a "Zeroplus: Logic Cube LAP-C (16032)"
Leggere, scrivere e discutere recensioni...
altro
Valutazione cliente per "Zeroplus: Logic Cube LAP-C (16032)"
Scrivi una valutazione
Le valutazioni vengono attivate dopo la verifica.