Codice Mirifica:

101543

Codice MEPA: MFMP-101543 (+ MFMP-SPESE_FISSE, opz. "codici del catalogo")
Nome produttore: MYIR
Codice produttore: MY-GPRS007C
A magazzino: 0
Supplier lead time: 4 giorni lavorativi
Informazione prodotto "MYIR: GPRS Module (MY-GPRS007C)"
MY-GPRS007C GPRS Module
The MY-GPRS007C is a GSM/GPRS Module released by MYIR specially for working on MYIR's MYD-SAMA5D3X, MYD-SAM9X5 and MYD-AM335X series ARM development boards. It is based on the Titel GL865-QUAD module which are quad band 850/900/1800/1900 GSM/GPRS devices in compact LCC castellation packaging with extremely low power consumption and extended temperature range. It is connected with other terminals through serial port.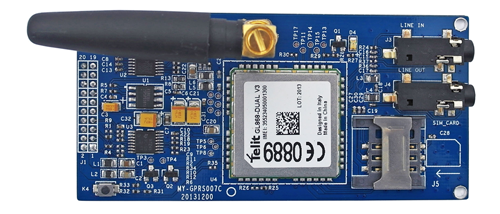 Features
Item

Parameters

Dimensions

87.00mm (L) * 42.00mm (W)

Interface

Serial port

Voltage

Working voltage: 5v, 3.3v

Communication voltage: 3.3v

Frequency band

Quad band: EGSM850/900/1800/1900MHz




Output power

Class 4(2W)@900MHz


Class 1(1W)@900MHz

Sensitivity

108dBm(typ.) @900MHz

107dBm(typ.) @1800MHz

GPRS

Data

GPRS class10& Extended TBF

SIM card slot

on board SIM card slot

Audio

Line In and Line Out

Expansion Interface

2.0mm pitch 2 x 10-pin header

Working Temp.

-40 ~ +85°C

OS support

Linux
Board Products Supporting List
The MY-GPRS007C GPRS Module can support working with following MYIR's board products:
Link correlati a "MYIR: GPRS Module (MY-GPRS007C)"
Leggere, scrivere e discutere recensioni...
altro
Valutazione cliente per "MYIR: GPRS Module (MY-GPRS007C)"
Scrivi una valutazione
Le valutazioni vengono attivate dopo la verifica.