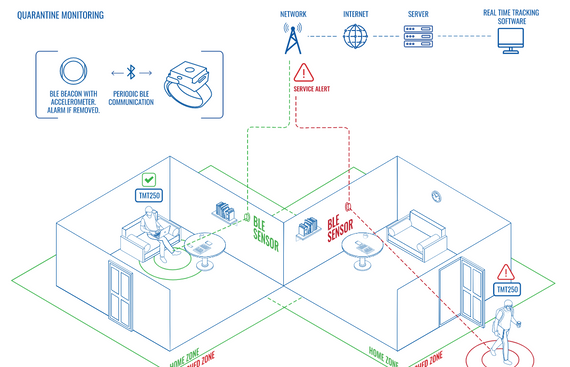 Effective quarantine monitoring solution
One of the most impactful forces, driving the curse of Covid-19 cases upstream, is people, who are not following quarantine requirements. However, restricting people from breaching quarantine can be difficult to manage and does not provide stable and effective results
---
Código de artículo VAR-827001730
---
Disponible para su envío: ${ $store.getters.currentItemVariation.stock.net }
Listo para el envío. En stock
---
---
CHALLENGE
The quarantine requirements for travellers have become increasingly common in many countries worldwide. Any violation of home quarantine can present a great risk and cost to public health. Since quarantine places are scattered over the city, effective and continuous monitoring of quarantined people can become a challenging problem for the authorities. There are several ways that countries use to implement quarantine enforcements. One approach requires that the person regularly reports his satellite-based geo-location for remote checking. However, this manual approach disrupts the ability to live a normal life, drains government resources and does not function in a reliable way when satellite signals are weak or absent (i.e: in the crowded buildings). Another way is to conduct special visits, which is inefficient due to the inadequate resources of manpower. Both ways pose a risk that the person might leave in the time gaps between inspection or report timing.
Also, many countries require travellers to use apps to track the location and provide regular photographic proof to ensure the person is at home. Some countries have even implemented drastic measures by using mandatory apps that require access to people's calls, location, camera, storage, network information, sensors and other data to ensure people won't leave their home while in quarantine.
These incomplete solutions with a questionable approach to human privacy rights bring the greatest concern for many people. Human rights organizations such as Human Rights Watch, are concerned about the usage of mobile data in the COVID-19 response, because it usually contains sensitive information about people's identity, location, behavior and activities. The lack of transparency regarding many tracking initiatives prevents the public from perceiving such apps to be a safe method of quarantine enforcement.
SOLUTION
How to solve all these issues in a simple, yet reliable way? Teltonika raised the same question, to create an effective quarantine enforcement solution. And here it is, Offender Tracker, our first wearable device which is designed for an accurate and real-time people monitoring This autonomous monitoring device does not require any frequent manual input of a confined person and manpower from the controlling unit in order to check the location remotely.
TMT250 & ankle holder is attached to the confinee, while Bluetooth beacons are installed at home for the duration of the quarantine. The Home Zone functionality provides automatic notification if the device digresses from the confinee's home. Also, the Geofencing functionality allows to mark the quarantine region which is being tracked with GPS, and if the confinee breaches the zone boundaries, the controlling unit receives an immediate notification and details of offender's location. In case of a bracelet breach, the Tamper detection sends an immediate alert, while Accelerometer sensor provides the most accurate data about movement. It is also designed for a comfortable usage – the water-resistant case allows to use the device outdoors or in the shower. Finally, the handy alarm button assists to call for help in case of emergency.
| | |
| --- | --- |
| Identificación de artículo | 101459 |
| Estado | |
| Fabricante | Teltonika |
| País de origen | |
| Contenido | 1 undefined |
---