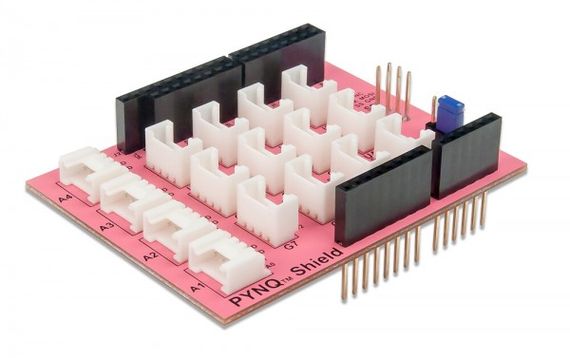 PYNQ Grove System Shield Adapter
Arduino Uno R3 Layout Steckverbinder, 16 Grove Anschlüsse insgesamt
---
Código de artículo VAR-827000490
---
Disponible para su envío: ${ $store.getters.currentItemVariation.stock.net }
Retraso previsto en el envío por encima de las existencias disponibles: 2 meses
---
---
Quickly add Grove modules to your PYNQ projects with a choice of a Grove Shield or a Grove Adapter. The Grove System simplifies traditional electronics by removing the messy, time-consuming effort with breadboarding. The Grove system consists of a base platform and various modules with standardized connectors. Each Grove module addresses a range of functions such as simple LEDs, buttons, switches to complex servo control, heart rate sensors functions, etc. With the combination of PYNQ and Grove modules, the project possibilities are endless! For more information on the Grove system, please visit SEEEDStudio.
For support for these boards and PYNQ projects, please visit www.pynq.io
Scope of Delivery
1 x PYNQ Grove System Shield Adapter
References
Manufacturer: Digilent Inc.
Manufacturer's article name: PYNQ Grove System Shield Adapter
Manufacturer's article number: 6003-410-018
Resources
Other Digilent products are available on request.
| | |
| --- | --- |
| Identificación de artículo | 100391 |
| Estado | |
| ID de artículo histórico | 3026 |
| Modelo | 6003-410-018 |
| Fabricante | Digilent Inc. |
| País de origen | |
| Contenido | 1 undefined |
---