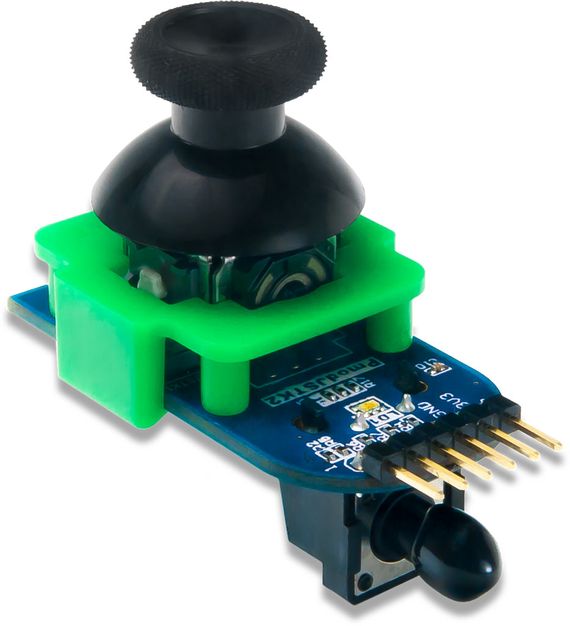 Pmod JSTK2: Two-axis Joystick
Vielseitiges User-Input-Gerät, das sich problemlos in eine Vielzahl von Projekten integrieren lässt. Ersatz für Pmod JSTK Digilent PN:410-116
---
Código de artículo VAR-827000420
---
Disponible para su envío: ${ $store.getters.currentItemVariation.stock.net }
Tiempo de tramitación: 3 días. Posibilidad de pedido, precio y plazo de entrega a petición.
---
---
Flexible peripheral modules for all your designs
Pmod™ devices are Digilent's line of small I/O interface boards that offer an ideal way to extend the capabilities of programmable logic and embedded control boards. They allow sensitive signal conditioning circuits and high-power drive circuits to be placed where they are most effective - near sensors and actuators.
Pmod modules communicate with system boards using 6, 8, or 12-pin connectors that can carry multiple digital control signals, including SPI and other serial protocols. Pmod modules allow for more effective designs by routing analog signals and power supplies only where they are needed, and away from digital controller boards.
Overview Pmod JSTK2
With a two-axis joystick on a center button, a trigger button, and a programmable RGB LED capable of 24-bit color, the Digilent Pmod JSTK2 is ideally suited for embedded or digital systems that require proportional control from the user, such as robotic applications. The Pmod JSTK2 utilizes two potentiometers oriented orthogonally to one another and are manipulated by moving the joystick in the X and Y directions. As the joystick moves, the voltage output at the sweep pin of each potentiometer changes and is measured by the 10-bit ADC present on the embedded PIC16F1618 microcontroller. The raw measured data is stored at a rate of 100 Hz as a 16-bit right-justified variable in RAM with the upper 6 bits masked with zeros. We have created some fantastic 3D printed cases for the Pmod JSTK2. If you have access to a 3D printer, or 3D printing services, you can print these yourself using the links below!
Please find the links to the 3D files on the product page at Digilent Inc.
The Pmod JSTK2 is the replacement for Pmod JSTK.
Features
Embedded PIC16F1618 microcontroller
Factory calibrated two-axis resistive joystick
Center joystick button
Trigger-style pushbutton
24-bit RGB LED
6-pin Pmod connector with SPI interface
Follows Pmod Interface Specification Type 2
Library and example code available in resource center
Demo/Project Links
Microprocessor
Programmable Logic
Scope of Delivery
Pmod JSTK2 in a custom antistatic Pmod packaging
Plastic motion limiter
Pmod Hardware Compatibility Guide
Digilent's guide about determining hardware compatibility.
References
Manufacturer: Digilent Inc.
Manufacturer's article name: Pmod JSTK2: Two-axis Joystick
Manufacturer's article number: 410-330
Resources
Other Digilent products are available on request.
| | |
| --- | --- |
| Identificación de artículo | 100321 |
| Estado | |
| ID de artículo histórico | 2618 |
| Modelo | 410-330 |
| Fabricante | Digilent Inc. |
| País de origen | |
| Contenido | 1 undefined |
| Peso | 11 g |
| Peso neto | 11 g |
---