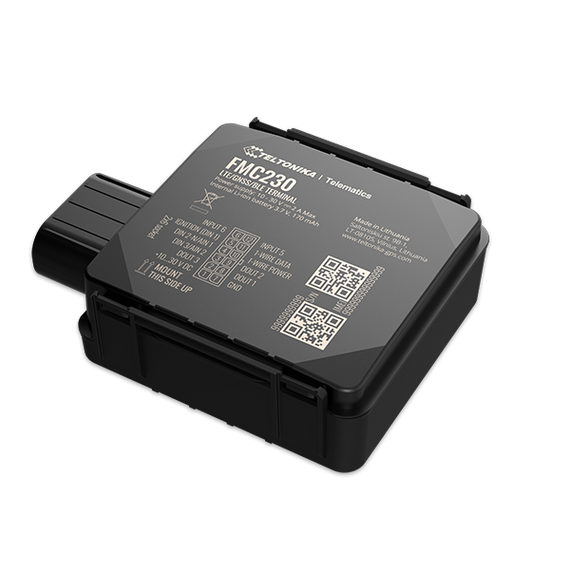 FMC230 (Europe, Middle east and Africa) + FOTA WEB + 1 hour free support
Waterproof LTE CAT 1 terminal with flexible inputs configuration
---
Numero di variazione (MEPA): VAR-827001685
---
Disponibile per la spedizione immediata: ${ $store.getters.currentItemVariation.stock.net }
Ritardo di spedizione previsto oltre la disponibilità a magazzino: 2 settimane
---
---
Description
FMC230 is WATER AND DUST RESISTANT tracker with 4G (LTE Cat 1) network coverage including 2G (GSM) fallback compatibility. It comes equipped with internal GNSS, LTE antennas, configurable digital/analog/negative and impulse inputs, three DOUT outputs, Bluetooth connectivity, and backup battery.
FMC230 developed on the existing Teltonika platform, therefore it keeps all of the functionalities from FMC130 with an additional IP67 resistance to dust and water.
This tracker is dust tight and protected against the effects of a temporary immersion in water. It can be mounted inside and outside of a vehicle without worries that high pressured water, mud or dusty environment will impact its operation or performance quality. This is particularly relevant for the industries where harsh conditions exist, such as agriculture, construction and mining, and more.
For starters, FMC230 features negative input which allows you to save precious integration time while connecting accessories like vehicle doors sensor, alarm buttons, seatbelt detection, and other similar sensors or accessories.
Additionally, the device has an integrated possibility to enable Impulse Input for precise fuel flow meter data reading. Impulse based fuel usage monitoring is much more accurate than a different type of fuel metering sensors and it makes the FMC230 a perfect solution for high fuel usage machines like cranes, construction vehicles, mining machines, agriculture equipment.
---
Classifies the degree of protection against solid objects and water
Configurable DIN/AIN/NIN for flexible remote monitoring and control
CAN data reading from vehicles and specialized transport (with CAN adapter)
Reliable 4G (LTE Cat 1) connection with fallback to 2G (GSM) network
Impulse inputs for fuel flow meters data reading
Allows device to work without external power source
---
Standard package contains
FMC230 trackers
Input/output power supply cables (0.9 m)
Standard order codes
Product code
Region
Frequency
Package contains

FMC2305X2X01

EU, MEA

4G (LTE-FDD): B1/B3/B7/B8/B20/B28

4G (LTE-TDD): B38/B40/B41

Standard package

FMC230642X01

APAC, LATAM

4G (LTE-FDD): B1/B2/B3/B4/B5/B7/B8/B20/B28

Standard package
| | |
| --- | --- |
| ID articolo | 101275 |
| Condizione | |
| Modello | FMC230KY2F01, FMC230 KY2F01 |
| Produttore | Teltonika |
| Paese di produzione | |
| Contenuto | 1 undefined |
| Peso | 150 g |
| Peso netto | 150 g |
---
Features
MODULE
Name
FMC230- MBIB0: MeiG SLM320-E with Teltonika TM2500
FMC230- MCIB0: MeiG SLM320-LA with Teltonika TM2500
Technology
LTE(CaT1)/2G(GSM/GPRS)/GNSS/BLUETOOTH
GNSS
GNSS
GPS, GLONASS, GALILEO, BEIDOU, QZSS, AGPS
Receiver
Tracking: 33
Tracking sensitivity
-165 dBM
Accuracy
< 2.5m CEP
Velocity Accuracy
< 0.1 m/s (within +/- 15% error)
Hot start
< 1 s
Warm start
< 25 s
Cold start
< 35 s
 
Technology
LTE Cat 1, GSM
2G
FMC230-MBIB0: GSM: B2/B3/B5/B8
FMC230-MCIB0: GSM: B2/B3/B5/B8
4G
FMC230-MBIB0: LTE FDD: B1/B3/B7/B8/B20/B28 LTE-TDD:B38/B40/B41
FMC230-MCIB0: LTE FDD: B1/B2/B3/B4/B5/B7/B8/B20/B28 LTE-TDD:B40
Data transfer
LTE: LTE FDD: Max 10Mbps (DL)/Max 5Mbps (UL)
LTE TDD: Max 8Mbps (DL)/Max 2Mbps (UL)
GSM: GPRS: Max 85.6Kbps (DL)/Max 85.6Kbps (UL)
Data support
SMS (text/data)
POWER
Input voltage range
10 - 30 V DC with overvoltage protection
Internal Back-up battery
170 mAh Li-Ion, 3.7 V battery (0.63 Wh)
Internal fuse
3A, 125V
Power consumption
At 12V < 3 mA (Ultra Deep Sleep)
At 12V < 5 mA (Deep Sleep)
At 12V < 16 mA (Online Deep Sleep)
At 12V < 18 mA (GPS Sleep)
At 12V < 33 mA (nominal with no load)
At 12V < 2A Max. (with full Load / Peak)
BLUETOOTH
Specification
4.0 + LE
Supported peripherals
Temperature and Humidity sensor, OBDII dongle, Inateck Barcode Scanner, Universal BLE sensors support
PHYSICAL SPECIFICATION
Dimensions
70,5 x 67,0 x 25,6 mm (L x W x H)
85,0 x 67,0 x 25,6 mm (L x W x H) (length with connector socket)
OPERATING ENVIRONMENT
Operating temperature (without battery)
-20 °C to +85 °C
Storage temperature (without battery)
-20 °C to +85 °C
Operating temperature (with battery)
-20 °C to +40 °C
Storage temperature (with battery)
-20 °C to +45 °C
Operating humidity
5% to 95% non-condensing
Ingress Protection Rating
IP67
Battery charge temperature
0 °C to +45 °C
Battery discharge temperature
-20 °C to +60 °C
Battery storage temperature
-20 °C to +45 °C for 1 month
-20 °C to +35 °C for 6 months
INTERFACE
Digital Inputs
3
Negative Inputs
1 (Digital Input 2)
Impulse Inputs
2 (Digital Input 1, Digital Input 2)
Digital Outputs
3
Analog Inputs
2
CAN Adapter inputs
1
1-Wire
1
GNSS antenna
Internal High Gain
Cellular antenna
Internal High Gain
USB
2.0 Micro-USB
LED indication
2 status LED lights
SIM
Micro-SIM + eSIM
Memory
128MB internal flash memory
FEATURES
Sensors
Accelerometer
Scenarios
Green Driving, Over Speeding detection, GNSS Fuel Counter, DOUT Control Via Call, Excessive Idling detection, Immobilizer, iButton Read Notification, Unplug detection, Towing detection, Crash detection, Auto Geofence, Manual Geofence, Trip
Sleep modes
GPS Sleep, Online Deep Sleep, Deep Sleep, Ultra Deep Sleep
Configuration and firmware update
FOTA Web, FOTA, Teltonika Configurator (USB, Bluetooth), FMBT mobile application (Configuration)
SMS
Configuration, Events, DOUT control, Debug
GPRS commands
Configuration, DOUT control, Debug
Time Synchronization
GNSS, NITZ, NTP
Fuel monitoring
LLS (Analog), LV-CAN200, ALL-CAN300, CAN-CONTROL, OBDII dongle
Ignition detection
Digital Input 1, Accelerometer, External Power Voltage, Engine RPM (CAN Adapters, OBDII dongle)
CERTIFICATIONS & APPROVALS (IN PROGRESS)
Regulatory
CE-RED, E-mark, RCM, Anatel, TRA, CITC, Reach, RoHS