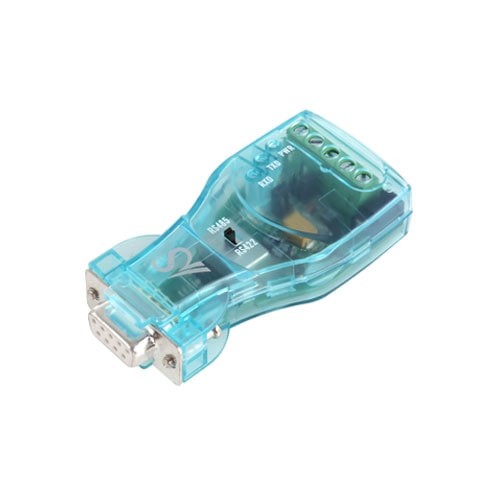 Maximum Communication Speed: 921.6Kbps, Industrial Grade Temperature: -40~85°C (IEC 60068-2-30/33), RS422/RS485 side: absorb 400W surge from waveform of 10/1000μs peak pulse, ESD Protection (IEC 61000-4-2: ESD level 4 protection)
---
Référence de l'article VAR-827001526
---
Encore ${ $store.getters.currentItemVariation.stock.net } pièces en stock
Retard d'expédition prévu au-delà du stock disponible: 2 à 4 semaines
---
---
Description
CS-428/9AT-PRO2 converts RS232 signals to RS422 or 485 and is the smallest converter available on the market. It is a fast and efficient solution to overcome distance limitations of RS232 or for connecting to industrial devices with an RS422/RS485 interface.
No additional software is required for operation. With an easily accessible DIP switch you can configure the interface for RS422 or RS485. The CS-428/9AT-PRO2 is fully compatible with the serial COM port on your PC.
Auto RTS Control (Auto Toggling)
The CS-428/9AT-PRO2 has a built-in hardware feature that performs automatic toggling to prevent devices from sending data simultaneously. This operation is crucial when multiple devices are connected to prevent electrical collisions that lead to errors and unstable communications.
What is RS485 Echo Mode?
Different from RS485 Non-echo mode, RS485 Echo Mode enables the output signal line to function as the input signal. Therefore, it is not necessary to read the echoed data to confirm whether the data sent crashes with data sent by another device. On CS-428/9AT-PRO2, all operations are controlled by the hardware so no additional modifications are required to the application program.
| | |
| --- | --- |
| ID de l'art. | 101289 |
| État | |
| Fabricant | SystemBase |
| Pays de fabrication | |
| Contenu | 1 pièce |
| Poids | 70 g |
| Poids net | 50 g |
---
Features
Serial
  Maximum Speed
921.6 Kbps
  Maximum Distance
1.2 Km. 24AWG twisted pair cable
  Connector
RS232: DE-09S(DB9 Female), RS422/S485: Terminal Block 5P
RS232: TXD, RXD, RTS, DTR, GND
  Signal Lines
RS422: TXD+, TXD-, RXD+, RXD-
RS485: TRXD+, TRXD-
  RS422 Mode
Point to Point, Multi-Drop
  RS485 Mode
Echo, Non-Echo
  Slide Switch
RS422/RS485 selectable
Operating Environment
| | |
| --- | --- |
|   Operating Temperature | -40~85 °C |
|   Storing Temperature | -40~85 °C |
|   Humidity | 5~95% Non-Condensing |
Certifications